Welcome to my complete guide to Amish swifts. I explain what Amish swifts are, how to assemble and use them, and the best models.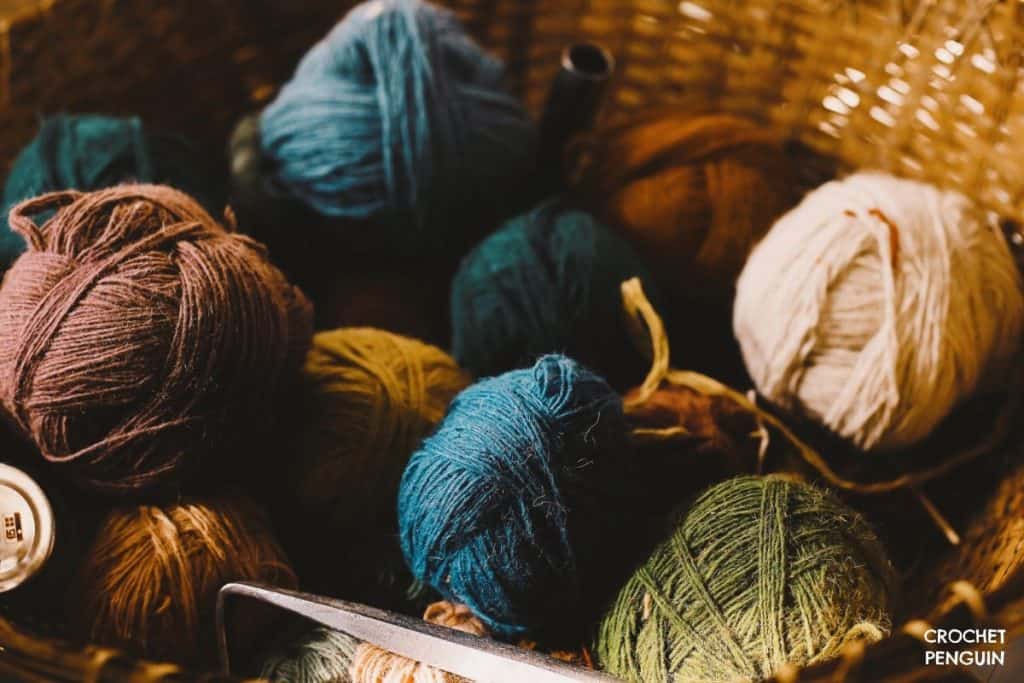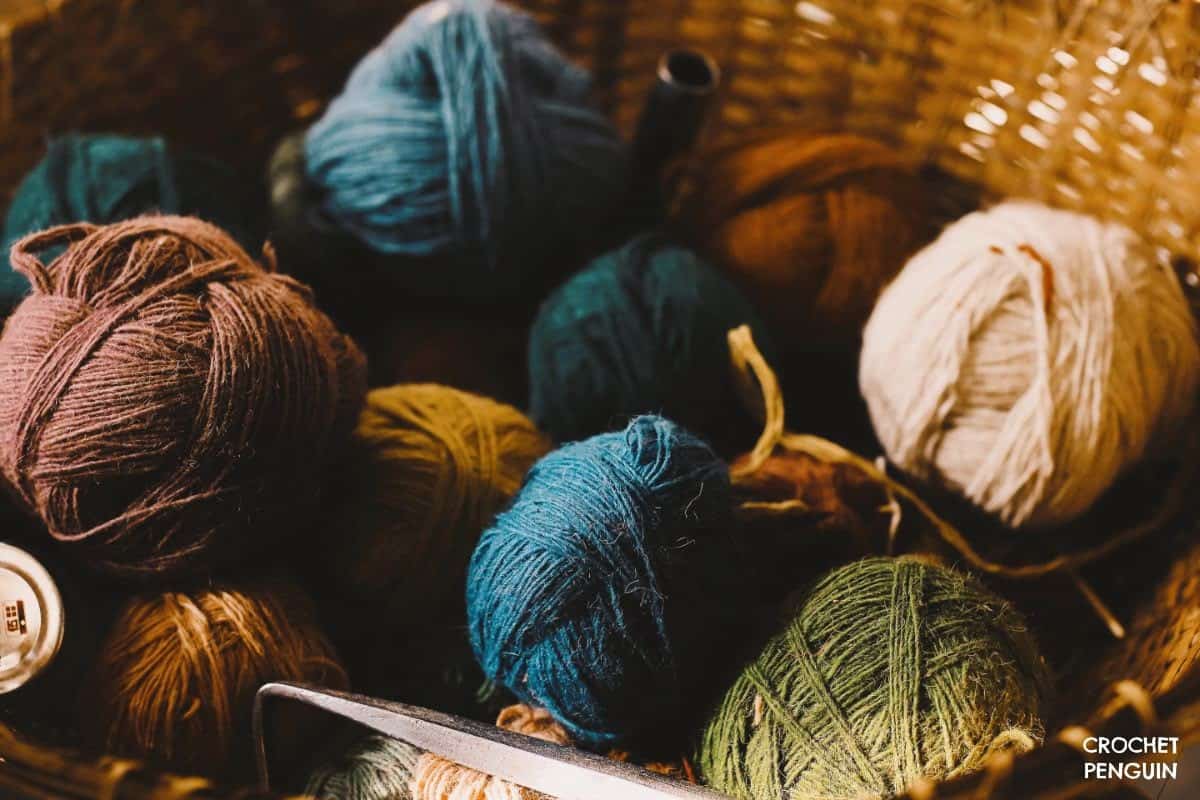 Read on for more information on what these are, and how they're sure to make your crocheting easier.
Table Of Contents
What Are Amish Yarn Swifts?
This type of swift has a table-top design. So it sits on a table instead of being clamped on like an umbrella swift. The two main types of yarn swifts are Amish-style yarn swifts and umbrella-style yarn swifts.
If you compare an Amish swift with an umbrella style swift, you'll notice the former has a base consisting of two short pieces of wood that fit together in the center. The bottom makes it possible to set it on the table without a clamp.
Another feature making the two different is the yarn swift with the umbrella design has a spinning rack at the top where the yarn goes.
The Amish swift, however, has two long pieces of wood on top of the base, set diagonally across each other. Those pieces have multiple holes where four pegs fit. You wrap the yarn around the four pins.
Can you use any yarn for crochet? Find out with my post.
How To Use An Amish Style Swift
Assembly
Note: These instructions apply only to the Stanwood and ChiaoGoo yarn swifts. To watch the assembly instructions for the Maple yarn swift by FASC, click here. To see video instructions for the Beka Yarn Swift, click here.
Here is an excellent tutorial by Tamara from Moogly on Youtube if you'd prefer to watch rather than read.
Parts:
Short wooden pieces x2
Long wooden plank pieces with multiple holes x2
Pegs (all the same size) x4
Shorter peg x1
Step 1. Take the two shorter pieces (the base). They both have a notch in the center. One with a gap facing up and the other has a gap facing down. The latter has a hole at the top. Fit them together.
Step 2. Take the short peg and place it into the hole at the top of the base, right at the tip.
Step 3. Get the long pieces. Make sure the holes are facing up on both (otherwise, the pegs won't fit properly). Put them together as you did with the base. They should look like a cross.
Place them over the peg in the base (there should be a hole for the peg in the two arms).
Step 4. Take the four pegs and slot them into the holes on the arms. Make sure they are in the same position for all four sides. Otherwise, the yarn won't fit properly. The pegs hold the hank in place while you wind.
Note: Why are there multiple holes? To fit different circumferences of rings of yarn. The bigger the hank, the further you move the pegs.
Now you're sorted for a swift, why not try it out with some sock yarns?
Using The Tabletop Yarn Swift
Once you untwist your yarn hank, you're ready to put it on your swift.
Place your untwisted hank onto the pegs. Adjust how tight the yarn is by moving the pegs as necessary. Ensure each one is in the same position. Cut off the ties keeping the hank together.
Take care to notice if your yarn is twisted. If so, untwist and make the yarn as even as you can.
If you're using a yarn winder, attach the end you want to wind from into the two holes, and then into the little notches on top of the winder's cylinder. Start winding. Everything is ready to start turning your yarn into a cake!
The Best Amish Yarn Swifts
Stanwood Needlecraft Tabletop Amish Style
This Stanwood Amish swift is a functional and straightforward model that's small and portable. Useful for a variety of different sized hanks. This is an excellent choice if you have limited space.
Features:
Made of solid wood
Super smooth
Holds skeins between 2 1/2 – 6 ft. in circumference
Four non-slip pads on the bottom
Quickly to assemble and take apart
Pros
Holds various sizes of yarn hanks
Straightforward to put together
Pegs go in and out of slots smoothly
No rough bits or splinters on the wood
The manufacturer provides clear instructions for assembly
Fits flat back into its box when taken apart
Spins smoothly, without squeaking
Takes up less room compared to an umbrella swift
Gets the job done quickly
It doesn't slide off the table when in use
Cons
Be warned, when you pick up the yarn swift, it falls apart.
Over time, the arms may not spin as smoothly as they once did, which makes friction.
Click to Learn More / Buy from Amazon
CHIAOGOO Amish Wooden Yarn Swift
The CHIAOGOO Amish style swift has a smooth wooden surface, doesn't slide, and holds various sizes of hanks. Its small size and portability make it an excellent choice if you don't have space for a full yarn winding setup.
Features
Measurement guide on arms for different sizes of hanks
Four non-stick pads to prevent sliding
Made of solid wood
Four adjustable pegs
Pros
Affordable
Simple design
Sturdy
Easier to handle compared to a clamp based swift
Disassembles quickly and easily
Lightweight
Portable
Doesn't slide on surfaces
Spins smoothly and quietly without any grinding or snagging
Cons
Slightly difficult to store
Large Hard Maple Yarn Swift
This table-top style yarn swift manufactured by Fiber Arts Supply Co in the USA, this is the first product this company ever made, back in 2007. Made of hard maple, and is jumbo and a heavy duty size, a real workhorse.
Features
Instruction manual included
Solid sanded maple wood
Ball bearings to make the swift spin smoothly
Four black rubber feet on the base
Pros
Low price
Spins smoothly
No yarn snagging
Sturdy
Easy to assemble and disassemble
No tipping or wobbling
Made in the USA
Guaranteed to last for years
Cons
Manual assembly required before use, but not too difficult
Beka Yarn Swift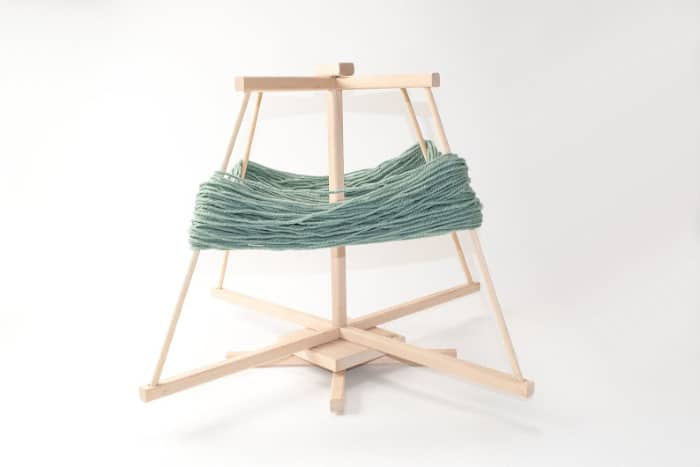 This Beka Yarn Swift is excellent if you have a long term yarn winding setup. Although not collapsible and rather bulky, it looks lovely if displayed in your yarn winding station. This swift holds many hank sizes, so suitable for most of your yarns.
Features
Made of hard maple wood
Tangle-free winding
Weighs 3 pounds
Instructions included
Pros
Holds skeins up to 72 inches
Looks attractive
Sturdy
Ball bearings to make the swift spin smoothly
Easy to assemble with no tools
Cons
Not collapsible
Sometimes snags yarn
Large and takes up space
Hopefully, this post helped you learn a bit more about this type of yarn swift, and the best models available.
Do you know of any products I haven't covered worth a mention? Let me know down below. Or if you already have one of these, what do you like about them? What do you prefer about this style of swift?
Pin Now to Save for Later