Crocheting Amigurumi is such an excellent craft. Make crocheted cuteness with the best yarn for amigurumi! Choose the best yarn type for your DIY project with my guide. Amigurumi is a Japanese technique. 'Ami' means knitting or crochet, 'nuigurumi' means doll.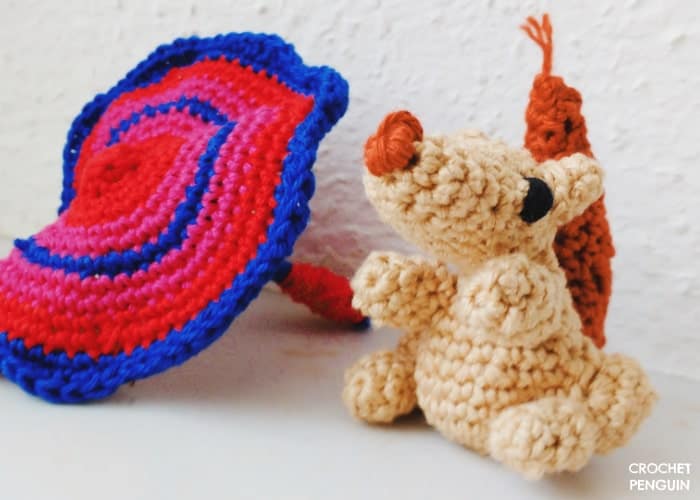 My Quick Recommendations
I reviewed, fact checked and updated this post on April 21, 2023
Table Of Contents
Paintbox Yarns Wool Yarn Mix Aran Yarn Weight
A massive variety of colors, and this aran yarn is super soft. The easy-care of acrylic wool blend means you put items in the washing machine. Get the best of both fibers in one yarn.
Features – How Does It Compare?
Care Instructions – Machine washable in cold water, don't iron it.
Fiber Content – 50% Wool 50% Acrylic
Yardage – 197yds (180m)
Yarn Weight – Aran/worsted
Weight – 3.5oz (100g)
Gauge – 4×4 inches – 18 stitches, 24 rows
Suggested Hook Size – G (4.50mm)
Pros
Reasonable price, even better when on sale
This equipment has a soft feel
Has a slight halo effect
Easy to use with all sorts of techniques, from making a blanket to scarves
Good if you have wrist or shoulder pain
Fantastic stitch definition and durability
Great variations of tones and hues
Cons
Premier Yarns Cotton Fair Yarn
This type of yarn is easy on the hands since it's a blend of cotton and acrylic. It's a smooth yarn with a beautiful sheen.This amigurumi yarn for beginners has an excellent stitch definition. There are solids and multi-color shades to choose in this acrylic blend.
It's easy to find the perfect color yarn choices for your project.
How Does It Compare?
Care Instructions – Machine washable and tumble dry
Made Of – 52% cotton/48% acrylic
Yardage – 317yd (290m)
Yarn Weight – #2 Fine Weight or Sport Weight Yarn
Weight – 3.5oz (100g)
Gauge – 4×4 inches = 18 single crochets & 20 rows
Suggested Crochet Hooks – G-6
Pros
This material has lovely colors
This thing is soft
No issue of lumpy or thin bits
Great for beginners to practice with!
Doesn't get fuzzy after many washes
Excellent for crochet dolls and baby blankets, weaving, clothes and other designs. Your imagination is the only limit!
Cons
Some found it thinner than they expected
Check Price On Amazon
RED HEART Amigurumi Yarn
This yarn is for specific amigurumi projects Red Heart designed. It comes in yarn cakes. They make the 2 cartoon characters pictured on the yarn label. Colors and patterns are interchangeable! Something new to try for amigurumi makers in their crocheting work and DIY projects!
How Does It Compare?
Care Instructions – Machine wash and dry
Made Of – 100% acrylic
Yardage – 239 yds (219m)
Yarn Weight – #1 Super Fine
Weight – 3.5 oz / 100 g
Gauge – 4" x 4" (10 cm x 10 cm) 22 single crochets and 24 rows
Suggested Crochet Sizes For Hooks – US B1 (2.25mm) Crochet Hook
Pros
Fun characters to create for craft projects
Good stitch definition
Soft texture
Color palette is lovely with an assortment of rainbow shades
Takes the guesswork out of choosing yarn and pattern
Cons
The amigurumi pattern isn't included. Search for them online
Need to split the yarn into the different colors
Not suitable for beginners
Some people may not choose to use this yarn due to the environment impact of plastic.
Check Price On Amazon
Lion Brand 24/7 Yarn – Lovely Colors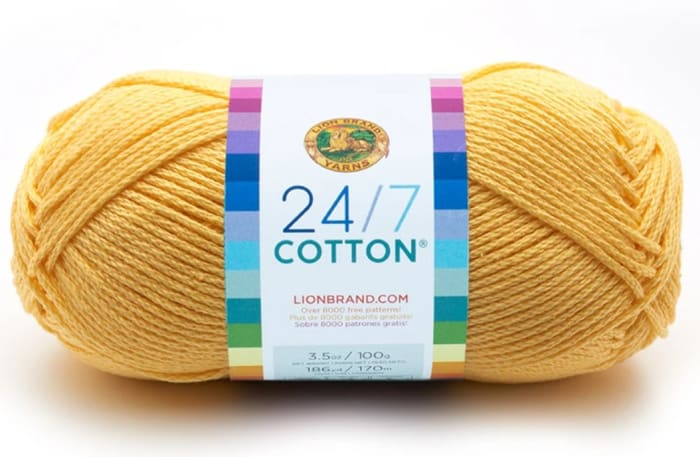 The 24/7 Cotton® yarn is a Lion Brand Cotton yarn, worsted-weight, 100% natural fiber yarn. With mercerization, the fibers have vibrant colors and sheen. Works up like a dream! Keep in mind it's stiffer than acrylic, but washing and drying help it soften. It's some of the best yarn for Amigurumi, but you can make garments with it too!
How Does It Compare?
Care Instructions – Machine wash and dry
Made Of – 100% Mercerized Cotton
Yardage – 186 yds (170m)
Yarn Weight – 4-Medium, Worsted
Weight – 3.5 oz (100g)
Gauge – 4×4 inches – 14 single crochets x 19 rows
Suggested Crochet Needle Size – G-6 (4 mm)
Pros
Durable and easy on your hands

Strong with excellent stitch definition

Great cotton yarn for the price point
This company has excellent customer service to make your shopping easier
These types of yarn don't pill
Holds its shape
Lovely for little ones toys or things for friends!
This soft yarn is easy to work with
Ships to countries like Japan, Canada and China
Doesn't split due to the chainette construction of the strand
Cons
May feel stiff at first
Thinner than what you're used to with category 4 worsted weight yarns
Berroco Vintage Chunky Yarn
This is an excellent option for larger amigurumi projects as the yarn is thicker. Create gorgeous amigurumi dolls.
How Does It Compare?
Care Instructions – Machine washable, dry flat
Made Of – 52% Acrylic 40% Wool, 8% Nylon
Yardage – 136 yards / 124 m
Yarn Weight – Chunky
Weight – 3.5 oz (100g)
Gauge – 4×4 inches = 12 sts & 14 rows
Suggested Hook – J/10 (6 mm)
Pros
Super soft
Stitching is easy to see
Ease of laundry care
An array of shades for your stash
Affordable to purchase
The thickness of the yarn makes crocheting quicker
These are some fancy yarns
Someone would love something made with this!
Cons
Check Price On Amazon
Bernat Pipsqueak Yarn
This is an OEKO-TEX® certified yarn. Perfect for adding soft texture to your amigurumi projects. Think fluffy soft teddy bears, stuffed animals, or Llama plush toys. The chunky size of the plush yarn crochets up quickly. It stands up to the wear of children when they toss their toys around.
How Does It Compare?
Care Instructions – Machine wash and dry
Made Of – 100% polyester
Yardage – approximately 120yd/109m
Yarn Weight – #5 Bulky
Weight – 3.5oz/100g
Gauge – 4×4 Inches = 9sc x 12r
Suggested Hook – I9 (5.5mm) Hook
Pros
Soft amigurumi chunky yarn
A good choice for people sensitive to animal fibers
Selection of colors
Cons
Dye lotted. Get more yarn than you need to ensure color consistency
You may find the fluffiness isn't consistent between colors
Limited colors
Not sutiable for crocheted dolls
Check Price On Amazon
Lion Brand Mandala Yarn
Soft acrylic yarn with some beautiful colors in the same skein. Despite being self-striping, the colors look like gradient yarn.
How Does It Compare?
Care Instructions – Hot machine wash and dry
Made Of – 100% Acrylic
Yardage – 590yds (540m)
Weight – 3 Light
Skein Weight – 5.3 oz (150g)
Gauge – 16 single crochet x 20 rows
Suggested Hook – H-8 (5 mm)
Pros
A fabulous range of a ton of bright colors
Easy care
Of course, this is great for a beginner!
Machine wash and dry
Affordable
Use it to make gifts! An idea is a lovely shawl with a color twist
Cons
Some users found the acrylic yarn scratchy when crocheting. It softens after time and washing.
Yarn thickness varies throughout the cake. Yet, it won't be noticeable
Paintbox Yarns Cotton Aran Yarn
Perfect for Amigurumi with a wide range of colors and a lovely feel. One of the popular brands with crocheters. This brand also offers Cotton DK.
How Does It Compare?
Care Instructions – Warm machine wash, dry flat
Made Of – 100% Cotton
Yardage – 93yds (85m)
Weight – Aran
Skein Weight – 1.8oz (50g)
Gauge – Suggested Hook – G (4.50mm)
Pros
Vibrant and pastel colors
Feels soft when you crochet
The strands are twisted well, and it doesn't split
Positive customer reviews
This product is cost effective
Make everything from a washcloth to potholders
Cons
It's small. Ensure you have enough for your pattern
Fable Fur
This makes super squishy toys. The collection of colors is fun and it's machine washable. Short hairs are attached to the main thread, making it soft, voluminous, and velour feel.
How Does It Compare?
Care Instructions – Machine wash at no higher than 30 degrees, dry flat. Suitable to also hand wash.
Made Of – 100% Micro-polyester
Yardage – 131yds (120m)
Weight – 3.5 oz (100g)
Suggested Hook – Hook 6.5mm
Pros
The thread is thick, suitable for large-scale projects.
Soft and squishy
Good customer service and attention to detail
Good value for money
Lovely finish and creates wonderful results with the colorways
Sometimes they have deals on this yarn
Cons
Joining it requires a knot
Katia Amigurumi
Cotton yarn pack of 10 balls of different colors, suitable for small amigurumi art projects.
How Does It Compare?
Care Instructions – Machine Wash Gentle, Cold
Made Of – 100% Cotton
Yardage – 36yds (33m)
Weight – 0.4oz (10g)
Suggested small Hook – 1.50mm
Pros
Quality cotton skeins and color options
Perfect for little amigurumi projects and other crochet projects, like minature home decor
Affordable shipping to your country
Cons
Only a small amount of yarn, so choose your project carefully
A downside of cotton is it does break down over time
Might have a tiny curl, but that's easily fixable with blocking
What To Look For In Amigurumi Yarn
Here are key decision-making factors and tips to consider when choosing the best yarns for Amigurumi.
What Is The Best Yarn To Use For Amigurumi?
As a rule, cotton yarn is the perfect choice for Amigurumi. The yarn is smooth, stretchy, and there are lots of colors. Cotton/Acrylic and Bamboo/cotton blends also work well.
What Kind Of Care Does It Need?
Making Amigurumi for babies and kids? You need machine washability and tumbled dried knitting or crochet yarn. It'll make your life and the parents' lives easier!
What's It Made Of?
Yarn for crocheting amigurumi is 100% cotton. Mercerized or non mercerized. "Mercerized" cotton yarn prevents fuzzing and piling. Also, to enhance dye retention. Avoid unmercerized yarn if you want something tough.Mercerized cotton yarns are not as soft as non-mercerized yarn. Yet, they hold up to washing and wearing well.
Cotton/Acrylic blends – a higher percentage of cotton yarn keeps the fabric tighter. Acrylic's stretchiness is an advantage. The same goes for Cotton/Bamboo blends. Look for yarns with a higher percentage of cotton.
How Much Yardage?
Your amigurumi project determines how much yarn you need. The yarn label tells you how much yardage it contains. Don't forget to add a little more yarn than stated on the pattern. If the yarn is dye lotted, get enough for your project in one go.
What Yarn Weight Is Best?
This is an important part of selecting your ball of fiber! Worsted weight #4 or light worsted #3 yarn weights work best. The nature of this method means any details are lost in thick yarn.
What's Your Budget?
How much you're willing to spend depends. You don't want to pay a fortune for something that'll experience wear and tear! However, many of the yarns recommended are often on sale. You might find a coupon code if you sign up for the seller newsletters.
Softness
Most Amigurumi creations are often toys, and softness is essential! No one wants a scratchy toy. A lot of people think Acrylic is scratchy but many are very soft. Yet, the softer than yarn, the more likely it fuzzes and pills.
Strength
Amigurumi is created with a small crochet hook or knitting needles to create tight stitches. My suggestion is to get a yarn with some stretch. Non-stretchy yarns are harder on your hands, wrists, and shoulders. Others are more comfortable to use!
Which Amigurumi Yarns Are Best For Your Projects?
Hope this helps in choosing the best yarn.
Paintbox Yarns Wool Mix Aran – Stretchy fiber is easier for crocheters with pain.
Premier Yarns Cotton Fair – Great for projects requiring thin yarn.
RED HEART Amigurumi – Excellent choice for 100% acrylic yarns.
24/7 Yarn – A great acrylic fibers/cotton blend. Create a gorgeous Amigurumi doll.
Berroco Vintage Chunky – This yarn has a slight halo perfect for giving toys an itty bitty fuzzy texture.
Bernat Pipsqueak – An OEKO-TEX® certified yarn.
Paintbox Yarns Cotton Aran – Gorgeous color range.
Mandala – Great for self-striping projects.
YarnArt Dolce – Suitable for larger toy projects.
Katia Amigurumi – Perfect for small projects.
Comparable Products To Consider
Looking for more amigurumi yarns? Check these yarn types out.
Want to try faux fur yarn? See the WeCrochet Fable Fur. Keep in mind a difficulty is seeing the stitches clearly due to the texture. Look for holes in the stitches with your fingers before you stitch
Fancy something novel? See Ice Eyelash Yarn
Amigurumi Patterns
Amigurumi patterns are available in various shapes and sizes, ranging from charming and snuggly animals, plants, to delightful characters from your beloved television series and films. Regardless of your experience level in crocheting or knitting, there is an amigurumi pattern that perfectly suits you. Here are some of the best to try:
Cactus In A Pot
Woobles Pierre Penguin
Mini Kittens
Plush Donut
Cleo The Clam

FAQs About Amigurumi Yarns
How To Join Yarn Amigurumi
Here's an excellent tutorial on joining yarn for your Amigurumi projects using the magic knot. Created by Hopeful Honey.
How To Change Yarn Amigurumi
Follow these instructions from The Friendly Red Fox to change yarn in crochet amigurumi. The color changes flow smoother. She also has wonderful amigurumi patterns
What Size Yarn For Amigurumi?
The size depends on the crochet pattern you choose.
Is Cotton Yarn Good For Amigurumi?
Cotton yarn is an excellent choice for Amigurumi. It has exceptional stitch definition and a fabulous spectrum of colors. Yet, it's not as stretchy. So avoid crocheting with it for long periods. A blend yarn might suit!
What Weight Is Amigurumi Yarn?
The best weight is Worsted Weight or medium weight yarn #4.
What Yarn Do You Use For Amigurumi?
The yarns I've recommended above are all suitable for amigurumi projects. Popular fibers are cotton, acrylic blends, and polyester.
Where To Buy Amigurumi Yarn?
Try your local yarn store and at LoveCrafts, Amazon, Etsy, and Lion Brand.
Where To Buy Circulo Amigurumi Yarn?
If you're in the USA, buy it online at selected craft stores. Check their website for details.
What Kind Of Yarn Is Best For Amigurumi?
Yarn options such as Cotton or acrylic.
Amigurumi How Much Yarn?
How much yarn you need for your Amigurumi projects depends on the pattern. The materials list tells you the yardage required.
What Is The Difference Between Crochet And Amigurumi?
Amigurumi is the creation of cute soft toys crocheted using single crochet stitches. They can also be knitted.
Can You Use Any Yarn For Amigurumi?
As Amigurumi are often toys, you want a yarn easily washed and durable. Stick with affordable cotton, acrylic or blends of these yarns.
Is Paintbox Yarn Good For Amigurumi?
Paintbox yarn is a favorite of many makers. The colors are vibrant, and the yarn is good quality and affordable.
Is Cotton Or Acrylic Yarn Better For Amigurumi?
Cotton is the best choice for excellent stitch definition and range of colors. Yet, it is not as stretchy as acrylic. The stretchiness of the blend yarns of cotton acrylic makes it easier to crochet with. Plan to make lots of Amigurumi? Use acrylic or blends of acrylic.
Is Dk Yarn Good For Amigurumi?
DK yarns are suitable for Amigurumi when you want smaller stitches. It's thinner than Worsted weight.
What Thread Do You Use For Amigurumi?
Use DMC No.8 Pearl Cotton crochet thread.
What Ply Is Amigurumi Yarn?
The standard Worsted Weight yarn in North America is like 10 ply yarn in other parts of the world.
How To Stuff Amigurumi Projects
Buy tools like polyfill, or use up your yarn scraps for stuffing.
Conclusion
Amigurumi uses crochet stitches to make cute creations. Use any yarn, but the best are cotton, acrylic, or blends. Crochet something like a stuffed doll with your new favorite fiber! Eventually, everyone develops a favorite. You may find you prefer one type. Test with a few different kinds.
Be bold and try out different yarns and styles. You can make anything you like! Crochet accessories like stitch markers are handy things to have on hand when making amigurumi items. What creations have you made and have displayed on your shelf? Or do you have a question? Let me know in the comments using your email address.
Looking for more on yarn? See here.
Pin For Later